The first weekend of fall brings music, theater, art, comedy, food, fire, and more. Here are some highlights.
Concerts at The Word Barn Meadow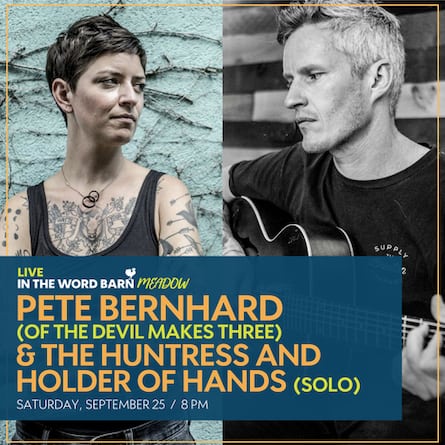 Another stellar lineup comes to The Word Barn Meadow in Exeter this weekend. On Friday, beloved indie-folk band Darlingside plays an early show from 5-6:30 p.m. and a late show from 8-9:30 p.m. ($45). On Saturday from 8-9:30 p.m., Pete Bernhard (The Devil Makes Three) and MorganEve Swain (The Huntress and Holder of Hands) split the bill ($25). On Sunday from 7-8:30 p.m., local string band The Green Sisters take the stage ($20). Learn more here.
Scott Weintraub: Return to Portsmouth
Pontine Theatre opens its 44th season with the premiere of a new one-man cabaret, "Scott Weintraub: Return to Portsmouth." A noted actor, singer, writer, director, and producer, Weintraub will use songs and anecdotes to describe his decade living and acting in Portsmouth. The show will be staged at the Plains Schoolhouse in Portsmouth on Friday at 7 p.m., Saturday at 3 p.m., and Sunday at 2 p.m. Tickets are $26-$29. Learn more here.
Tiger Saw & Dylan Earl
Dylan Metrano is front man of versatile regional indie band Tiger Saw. Dylan Earl is front man of earnest Arkansas-born band the Reasons Why. The two Dylans have joined forces to launch the "Wet & Unlucky" tour, which will bring them to the Grant Lot in Bath, Maine, for an outdoor performance on Friday at 7 p.m. The show is part of a concert series presented by local label Burst & Bloom Records. Tickets are $7. Learn more here.
Concerts at The Stone Church
The Stone Church in Newmarket will host back-to-back concerts this weekend. Local band Blanco, a relative newcomer to the Seacoast scene that blends elements of hip-hop, R&B, jazz, and rock, will perform on Friday at 8 p.m. ($10). Five-piece roots string band Grain Thief will make the trip up from Boston for an outdoor performance (which may move indoors depending on weather) on Saturday from 6-9 p.m. ($12). Learn more here.
Seacoast Wing Festival
The Raitt Homestead Farm Museum in Eliot, Maine, will host the Seacoast Wing Festival on Saturday from 12-6 p.m. The event will feature competing food trucks and restaurants, local craft beer, a wing eating contest, live entertainment, craft vendors, kids activities, and more. Food trucks and restaurants will compete for the title of "best wing," as determined by guests in the People's Choice Award. Tickets are $15. Learn more here.
Gratitude Music Festival
The Music Hall will pay tribute to frontline workers with the Gratitude Music Festival on Saturday in Portsmouth. Jam band Neighbor plays on Chestnut Street at 1 p.m. Punk-tinged Americana artist Carsie Blanton performs at Portwalk Place at 3:30 p.m. Nashville-based singer-songwriter Anderson East headlines in The Music Hall at 8 p.m. Tickets are $30 per show, or $90 for a festival pass, with substantial discounts for frontline workers.
13th Annual Stiletto Sprint
Men and women of all ages will compete in a 40-yard race while wearing heels during the 13th annual Stiletto Sprint in downtown Portsmouth's Market Square on Saturday from 1-4 p.m. The event is a fundraiser for Big Brothers Big Sisters of New Hampshire, with proceeds supporting its mission of providing mentorship to local kids. Registration is $40 (or $25 to participate as a "virtual runner"), and donations are accepted. Learn more here.
Ballroom Comedy Show
After a closure that lasted over a year, the Rockingham Ballroom is back and under new ownership in Newmarket. The venue's first event of 2021 is a Laugh Riot comedy show on Saturday at 8 p.m., featuring New England comics Jim Colliton (above), Francis Birch, and David Lamb. Following the stand-up sets, DJ TomTom will lead a dance party with karaoke until midnight. Tickets to the BYOB event are $20. Learn more here.
Hampton Beach Fire Show
Fire performers from the Boston Circus Guild will put on a fiery show at Hampton Beach on Saturday at 8 p.m. Flame-wielding, fire-eating daredevils will spin, juggle, and dance with blazing props during a fully choreographed display of fire arts. The free annual event takes place next to the Hampton Beach playground after dark. The performance will include jaw-dropping stunts and graceful movement with a spark of comedy. Learn more here.
Spirit of Old Portsmouth
The Press Room in Portsmouth will play host to an artist and makers show on Sunday from 12-6 p.m. Presented by Myles Burr, the two-story tabled craft show will feature local artists, makers, antiques, oddities, and a multi-vendor vintage pop-up market, all celebrating the Spirit of Old Portsmouth. Also at The Press Room: A Rent Party with the Soggy Po' Boys on Friday at 8 p.m. (free), and The Ghost Wolves on Saturday at 9 p.m. ($10-$15).
See the full calendar for more local events.