Holiday season kicks into high gear this weekend with parades and celebrations across the Seacoast. Here are some of the top events coming to local communities.
Button Factory Open Studios
Once a year, the artists and artisans of the Button Factory in Portsmouth open their studio doors and invite the public to poke around. It's a prime opportunity to do some holiday shopping while supporting local artists and mingling with the arts community. Among the offerings are paintings, photography, jewelry, pottery, knits, furniture, and more. It takes place Saturday, Dec. 1, from 10 a.m.-5 p.m., with a preview event on Friday, Nov. 30, from 5-8 p.m. Learn more here.
Rock/Paper/Scissors at 3S
The new exhibit at 3S Artspace in Portsmouth showcases the work of two artists working in a mix of mediums. "Rock/Paper/Scissors" combines Juliet Karelsen's "Universal Forest" with layered papercuttings by Dylan Metrano. Karelsen's work cross-references painting, stitching, tapestry, embroidery, and more. Metrano's papercuts feature portraits, animals, and landscapes. Both artists blend nature and fantasy in the show. An opening reception takes place Friday, Nov. 30, from 5-8 p.m.; the exhibit runs through Dec. 30. Learn more here.
Holiday Theater
Uplifting holiday fare has by now taken over just about every stage in the greater Seacoast region. Among the holiday shows opening at Portsmouth theaters this weekend are Elf The Musical at The Music Hall (Nov. 30-Dec. 16), Annie at the Seacoast Repertory Theatre (Nov. 30-Dec. 23), and A Christmas Carol at The Players' Ring (Nov. 30-Dec. 23). A slew more holiday shows open next weekend, so stay tuned (or take a peek at the full theater calendar here).
Seacoast Holiday Parades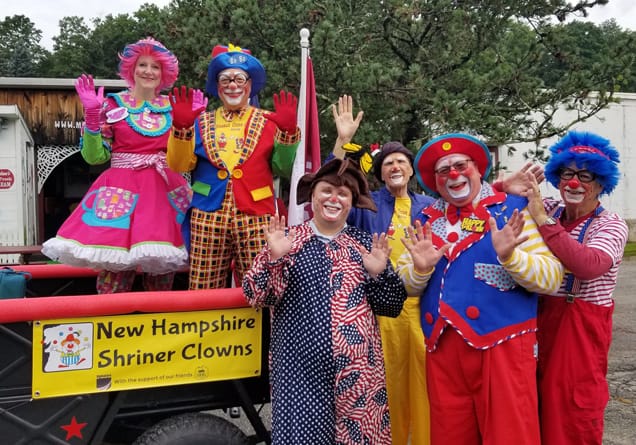 Towns and cities around the region reserve the first weekend of December for big holiday celebrations. The Portsmouth Illuminated Holiday Parade takes place Saturday, Dec. 1, from 5-8 p.m. The marching begins after a tree lighting ceremony in Market Square. At least eight other communities are holding parades on Saturday or Sunday, Dec. 1 or 2, including Exeter, Hampton, Rye, Rochester, Somersworth, Berwick, Kittery, and York. For a full parade roundup, including times, locations, and themes, click here.
Enuff Z'Nuff at the Brickhouse
After more than 30 years and 20-plus albums, Enuff Z'Nuff is still rocking across the nation and overseas. Born in the glam-metal era of the 1980s, the band has released hit singles, appeared on Howard Stern and David Letterman, and been featured on MTV and in Rolling Stone. They'll perform at the Dover Brickhouse on Saturday, Dec. 1, at 8 p.m., with support from regional rock bands Watts and Reckless Child. Tickets are $15-$18. For more information, click here.
For a complete calendar of local events, click here.