The first weekend of February brings the usual explosion of arts on the Seacoast. This weekend also features professional ice dances, great concerts, sketch comedy, and a fabulous drag show. Learn more about some of the highlights below.
Tim Beavis: New Paintings
Artist Tim Beavis has been one of the region's most prized painters for many years now. Known for his "Beach Series" landscapes, the Kittery Point resident will display new work at the Nahcotta gallery in downtown Portsmouth during the month of February. The opening reception coincides with Art 'Round Town on Friday, Feb. 2, from 6-8 p.m. Learn more about the exhibit here. As always, there are also first-Friday art walks taking place in Dover and Exeter.
Sean Rowe
The last couple of years have been particularly big ones for folk singer-songwriter Sean Rowe. In 2016, his song "To Leave Something Behind" was featured in the movie "The Accountant," starring Ben Affleck. And in 2017, he released his fifth studio album, "New Lore." Rowe's striking baritone voice will reverberate through the snug confines of The Music Hall Loft in Portsmouth on Friday, Feb. 2, at 8 p.m. Tickets are $20. For more information, click here.
Winter Ice Dances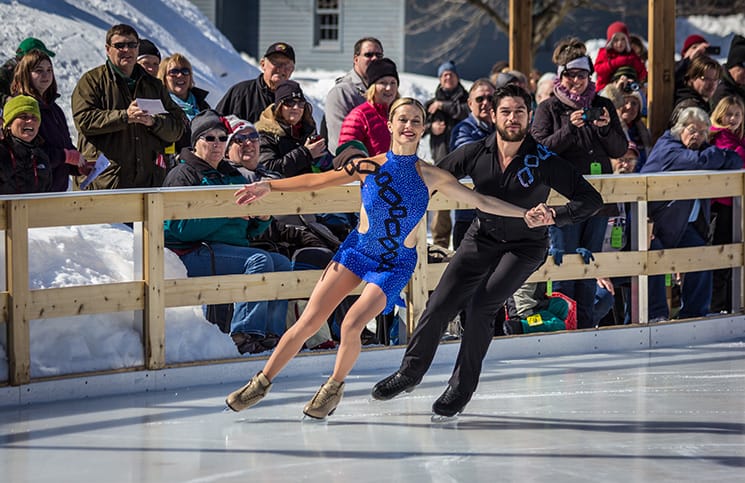 International skating champions will take to the ice at Puddle Dock Pond on Saturday, Feb. 3, at 3 p.m. for the fourth annual professional ice dance performance at Strawbery Banke in Portsmouth. Produced by Ice Dance International founder Douglas Webster, the event features Olympic-level figure skaters performing Winter Ice Dances on the outdoor rink. Tickets are $15 for adults, $10 for children, or $40 for a family of four (free for children under 5). Learn more here.
Capitol Steps: Orange is the New Barack
The last year has probably produced more political comedy fodder than any other year in American history. And that sets the stage for Capitol Steps' 20th annual performance in Portsmouth. The D.C.-based comic troupe, composed of former congressional staffers, returns to The Music Hall on Saturday, Feb. 3, to present "Orange Is the New Barack." The event raises money for affordable housing development. There are two shows, at 5 and 8 p.m. Tickets are $29-$45, available here.
Bunny and the Fox
At long last, the City of the Open Door has a formal Gay Night. Joslyn Fox, of "RuPaul's Drag Race" fame, and Bunny Wonderland, the queen of Seacoast drag, join forces with other regional queens for Bunny and the Fox, a drag show blending audio, video, and sketch comedy at 3S Artspace in Portsmouth. This month's installment takes place Saturday, Feb. 3, at 8 p.m., with an after party at 10 p.m. featuring DJ Skooch. Tickets are $25; learn more here.
For a full calendar of local events, click here.