Easter weekend brings art, music, theater, comedy, and more to Seacoast venues. Here are a few highlights.
'rest/ROOM' at the N.H. Art Association
The New Hampshire Art Association's Robert Lincoln Levy Gallery in Portsmouth has a new art space in… the bathroom! The W.C. Gallery's first exhibit opens with a reception during Art 'Round Town on Friday from 5-8 p.m. Titled "rest/ROOM," it's a deep look at artist Caitlin Little's experience with… bathrooms! Learn more here.
Two concerts at The Word Barn
Portland-based singer-songwriter Chris Pureka kicks things off at The Word Barn in Exeter this weekend with a performance on Friday from 7-9 p.m. ($20). Maine-based country-rock outfit The Mallett Brothers Band (above) caps off the weekend with special guest Will Overman on Sunday from 7-9 p.m. ($25). Learn more here.
Mark Scalia at Rio Tequila Cantina
During his 30-plus year career, Mark Scalia has performed at comedy festivals from Boston to Seattle to New Orleans. He's entertained audiences around the U.S. and Canada at clubs and on Comedy Central and other cable programs. He'll be at Rio Tequila Cantina in Portsmouth on Friday from 7-8:30 p.m. Tickets are $20. Learn more here.
Rise Up Exeter at Foundation Art Space
As a fundraiser for the Rise Up Exeter arts initiative, TEAM (Town Exeter Arts Music) is hosting a night of live music and original art at Foundation Art Space on Friday from 7-9 p.m. Funk band The Meter Maids headlines, with DJ SeanJumps on the decks and artist Sharon Marston opening a new spring exhibit. Tickets are $20. Learn more here.
Throwback Party at The Rockingham Ballroom
The Rockingham Ballroom in Newmarket will be hosting a different themed dance party on the second Friday of every month. This Friday, from 7-11 p.m., DJ Joey C will be taking requests as he spins tunes from the 1980s and '90s. Prizes will be awarded for the best period outfits and sickest dance moves. Tickets are $15. Learn more here.
Eclectic music at The Dance Hall
It's another mishmash of musical styles at The Dance Hall in Kittery. Local folk quartet the Old Hat Stringband performs on Friday from 7:30-9 p.m. ($17-$22). Drummer Jerome Deupree (of Morphine) leads an eight-piece band playing music from Miles Davis' electric era on Saturday from 7:30-9 p.m. ($17-$22). Learn more here.
'pain[t]' at The Players' Ring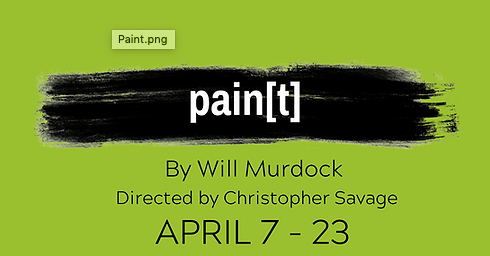 When an accident deprives an artist of the ability to paint, he must reassess who he is. That's the premise of Will Murdock's "pain[t]," which premieres at The Players' Ring in Portsmouth April 7-23. Show times are Fridays at 7:30 p.m., Saturdays at 2:30 and 7:30 p.m., and Sundays at 2:30 p.m. Tickets are $24-$27. Learn more here.
Shows at The Stone Church
What a weekend at The Stone Church in Newmarket. On Friday at 8 p.m., blues-rock band The Senie Hunt Project splits the bill with Boston's world-beat act Big Blue World ($15). on Saturday at 8 p.m., Sam Grisman (son of mandolin great David Grisman) and his band play the music of Jerry Garcia and David Grisman ($30).  Learn more here.
Live music on the Button Factory Stage
Dead Gowns (aka singer-songwriter Genevieve Beaudoin) shares the Button Factory Stage in Portsmouth with local guests Gaud and Molly McDevitt on Friday from 8-11 p.m. ($10). Boston garage-rock band Rusty Mullet headlines a loud lineup with doug., Lake Over Fire, and the Dreamtoday on Sunday from 8-11 p.m. ($10). Learn more here.
Portswap at 3S Artspace
Local fashion aficionado Recovergirl will be back at 3S Artspace in Portsmouth on Saturday to present the annual Portswap clothing swap from 11 a.m.-3 p.m. Bring a bag of used clothing to donate, and leave with a bag of new-to-you items. This year, Wear House and Sweet Pea will be contributing to the swap pile. Learn more here.
See the full calendar for more local events.