Though the Dover Police Department doesn't track how many discarded syringes it collects, Lt. Brant Dolleman says there's been a "dramatic increase" in the last few years, and the proof is in the department's supply orders.
Dolleman puts it this way: It initially took years for the department's sharps container — a secure plastic bin in which needles and other medical waste are stored before disposal — to fill up for the first time.
"I was talking to our evidence and property detective," Dolleman says. "And he said, 'For years, I didn't even know what to do with the stuff, but it didn't matter because the container was never full.' Now, we have to order more containers."
Collecting and discarding used needles have become common practices for area police departments as the region, and the state, continue to struggle with the opioid epidemic. The needles present a multitude of health and safety risks, not just to people actively using drugs, but to the general population.
In other states, needle exchange programs help deal with the problem; drug users are able to trade in used needles for clean ones, and the used needles are discarded safely. New Hampshire is the only New England state without needle exchange programs, and state law effectively prohibits them.
A Seacoast state representative is hoping to change that. The New Hampshire House votes this week on HB 1681, a bill sponsored by Rep. Joe Hannon (R-Lee) that would enable needle exchange programs to open in the state. The bill has attracted the support of recovery experts and other officials, who see it as a small step in responding to the opioid epidemic. According to the state medical examiner, 385 people died from drug overdoses in New Hampshire in 2015, and more than 90 percent of those deaths were caused by opioids.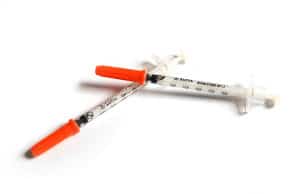 Removing barriers
Hannon is a retired doctor who received his medical training in north Philadelphia, and his wife is an emergency-room physician in Manchester. He's heard plenty of stories about used needles turning up on sidewalks and in parks, and he's seen more than a few himself. Sponsoring the legislation was "kind of a no-brainer," he says.
Under current state law, only pharmacists are allowed to dispense clean syringes. It's also illegal to possess a used syringe that contains even trace amounts of an illegal drug. It's a two-fold problem, Hannon says. "Syringe access is only available through pharmacies, but most pharmacies don't provide them. (And) there's no way to get rid of them … because it's illegal to possess a dirty needle," he says.
Hannon's bill tackles both problems; it exempts trace amounts of controlled substances in needles from the state's drug laws and allows certain people other than pharmacists to dispense needles and syringes.
"My proposal is not costing any money, it's just removing as many barriers as we can for private individuals to do this on their own," he says.
The biggest benefit is "harm reduction," according to Hannon. Having a safe place for people to dispose of and receive needles and syringes means it's less likely for a police officer or firefighter to get stuck with a dirty needle in the course of their job.
It also helps prevent the spread of diseases and saves the state money. IV drug users are at a greater risk for hepatitis B, hepatitis C, HIV, and other diseases. According to Hannon, it costs between $84,000 and $150,000 to treat someone for hepatitis B; if that person is on Medicaid, the state would be picking up part of the cost.
But, most importantly, Hannon says, having needle exchange programs is the humane thing to do. "They give people on death row a clean needle for a lethal injection," he says. So why not provide clean needles to people struggling with drug addiction?
A chance for recovery
There is some opposition to the bill. Critics say a needle exchange program would encourage drug use. But medical research points to the reverse, Hannon says — such programs discourage drug use, and implementing them now will help stem the tide of what Hannon believes will be an increase in cases of hepatitis C and HIV in the future.
"Those numbers are going to catch up to us in a few years, and we're going to say, 'Where are people coming from with these diseases?'" he says.
There are other criticisms, too — that exchange programs might make it easier for drug dealers or others to collect used needles, swap them for clean ones, and then sell the new needles, for example. It's not ideal, according to Hannon, but the benefits are far greater.
"At least (someone's) getting a clean needle out of it," he says.
Hannon and other experts also see needle exchange programs as a potential way to put people on the path to recovery. Heather Prebish is the clinical director for Recover Together, which operates seven recovery centers in New Hampshire and Maine. Their eighth location, at 767 Islington St. in Portsmouth, is slated to open this month.
"There 's really a threat sitting on the horizon, in terms of the spike in this epidemic and the number of needles that are being found with trace amounts of blood." — Sandi Coyle of Fedcap
Needle exchange programs "are such an important piece of treating individuals and reducing the harm involved in … IV drug use," Prebish says.
Prebish testified in support of Hannon's bill. Should it pass, Recover Together has plans to start up a needle exchange program in New Hampshire, she says.
"What we've found is that, when you establish exchange programs, you can capitalize on those interactions and refer patients to treatment who otherwise wouldn't (go)," Prebish says. "You're not only looking to reduce the harm involved, but also capitalize on those opportunities to provide education and awareness and, in some cases, integrate them into a recovery treatment program."
Current laws don't provide those chances, she says. "The number of IV drug users who are going to the pharmacy to get clean needles, we know that it's low." Workers at a needle exchange program would undergo training based on protocols established by the North American Syringe Exchange Network, Prebish says.
Sandi Coyle is the director of recovery services at Fedcap, a nonprofit based in Concord, and one of the principals behind Safe Harbor Recovery Center, which is slated to open in Portsmouth in April. Coyle is active in the state's growing recovery community, and she's heard a lot of support for Hannon's bill.
"There's really a threat sitting on the horizon, in terms of the spike in this epidemic and the number of needles that are being found with trace amounts of blood," she says. "There's a lot of reasons to be concerned right now."
Getting started
The House is slated to vote on Hannon's bill on March 9. If approved, it will head to the Senate. But even if the bill makes it to Gov. Maggie Hassan's desk for a signature this year, Hannon says, it may take years for the program to start.
Any program will have to be approved by the state's Department of Health and Human Services, which would then set up rules for programs to follow. There are other details to iron out, too — how to define a "trace amount" of drugs in a syringe, for example. But Hannon's optimistic about the bill's chances.
"Needles are cheap," he says. "Human lives aren't."