Time for another summer weekend on the Seacoast. Here are some of the top upcoming events at local venues.
Prescott Park Arts Festival Concerts
The Prescott Park Arts Festival is in full swing. In addition to their production of "You're a Good Man, Charlie Brown," the Portsmouth park hosts two concerts this weekend. Tennessee-bred singer-songwriter Amythyst Kiah performs with Nora Brown on Saturday at 3 p.m. Folk-rocker Amos Lee plays on Sunday at 7 p.m. Tickets are by donation.
Marvel Prone at 3S Artspace
The Loading Dock concert series continues at 3S Artspace in Portsmouth this weekend. Local psychedelic pop-punk band Marvel Prone takes the outdoor stage on Friday for two sets, with an early show from 6-7:15 p.m. and a late show from 8-9:15 p.m.  Table reservations are pay-what-you-choose, starting at $50 for up to four people.
Concerts at The Stone Church
The Stone Church in Newmarket has a packed lineup this weekend. First up is Grateful Dead tribute act Wolfman Jack on Friday from 6-9 p.m. ($20). The string quartet of the Green Sisters performs on Saturday from 6-9 p.m. ($20). Jerry Garcia Band tribute act Sans Souci plays on Sunday (Jerry's birthday) from 1-4 p.m. ($20). Learn more here.
Word Barn Comedy Live
Kelly MacFarland, who was voted Best of the Fest at the Aspen Rooftop Comedy Festival and won first place at the 2016 Ladies of Laughter, headlines the next Word Barn Comedy Night in Exeter on Friday from 8-9:30 p.m. Also on the bill are Reena Calm, Chris D., Matt Barry, and hosts Josh and Sara Day. Tickets are $25. Learn more here.
Sunflower Festival at Coppal House Farm
For nine days, guests at Coppal House Farm in Lee can meander through four acres of blooming sunflowers. The annual Sunflower Festival takes place July 31 to Aug. 8 from 10 a.m. to 6 p.m. There will be kids' activities, a craft fair, live music, a wine garden, food vendors, animal viewing, and more. Tickets are $10-$12. Learn more here.
Jim Dozet Band at PMAC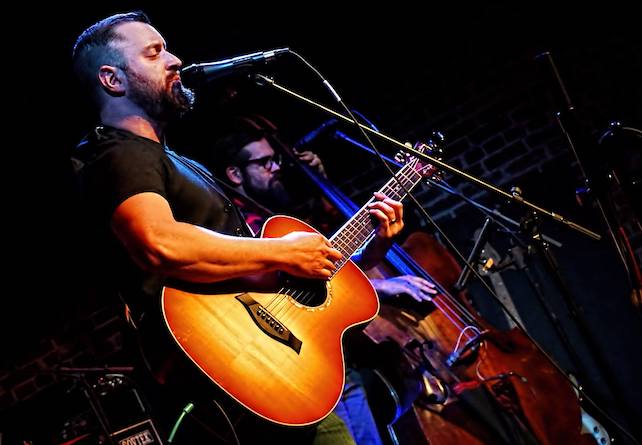 Ubiquitous and eclectic local guitarist and singer Jim Dozet brings his band to the Portsmouth Music and Arts Center for an afternoon performance under the tent on Saturday from 3-4 p.m. Rounding out the band are upright bassist Nick Phaneuf and drummer Pj Donahue. Tickets are $10 ($5 for kids under age 18). Learn more here.
Sojoy at John Paul Jones Park
In the next installment of The Dance Hall's Concerts by the Bridge series, the Sojoy quintet plays a special show at John Paul Jones Park in Kittery on Saturday from 6-7 p.m. It will be trumpeter Zach Lange's final performance with the beloved local jazz outfit before he packs up and moves to New Orleans. Tickets are $15. Learn more here.
Sammy Rae & The Friends in the Meadow
New York-based singer-songwriter and pianist Sammy Rae brings her band to The Word Barn Meadow in Exeter for a high-energy concert on Saturday from 8-9:30 p.m. At work on her second studio album, Rae's sound is rooted in jazz and classic rock, sprinkled with hints of blues and R&B. Tickets are $28 (low ticket alert!). Learn more here.
Liv N' Brilliant at The Press Room
Hard-rockers Liv N' Brilliant, a relatively new project fronted by Red Sky Mary singer Sam Vlasich, plays a show at The Press Room in Portsmouth at 9 p.m. The Maine-based quintet is inspired by classic rock bands like Aerosmith, the Rolling Stones, The Black Crowes, Guns N' Roses, and others. Tickets are $7-$10. Learn more here.
Under the Arch: David Rodriquez
Colorado-based singer-songwriter David Rodriguez, formerly of the folk band Elephant Revival, will play two sets under the arch on Chestnut Street in front of The Music Hall in Portsmouth on Sunday. The early show is from 5-6 p.m. and the late show is from 7-8 p.m. Tickets are sold by the table ($70 for two people, $140 for four, $210 for six).
See the full calendar for more local events.